The High Demand for Short Term Rentals in Canada
Canada is a fantastic place to visit and people from all over the world make their way here for many reasons. In the main cities, there are convention centers that hold large conferences throughout the year. Due to its close proximity to the US, many Americans come here to enjoy the natural splendors of any given area. Canada is the second-largest country when it comes to landmass so the cities are quite spread apart. If someone is going to British Columbia to enjoy the Pacific Ocean or taking in some luxury ski resort holiday, they won't see Toronto on the same trip. As an Airbnb manager in any of the high-demand cities, you have big opportunities for gaining short term stays in your area.
While Americans are probably the biggest demographic for Airbnb stays, there are also Canadians that travel province to province. There are also millions of international travelers coming to all areas of Canada annually. When we look at how people enter Canada, Ontario is #1. Most people will fly into Toronto and from there, they may fly to other parts of Canada. The second most popular fly-in point in Vancouver, the main city in British Columbia. Then it's Quebec (Montreal), Alberta (Calgary), and another Ontario city, Ottawa. These are the cities that we're going to talk about and when it comes to Airbnb management, you're in a good position if you have a property in these areas.
Some People Prefer an AirBnb for Short Term Stays
Canada is well-known for offering short term rental management properties in fantastic locations. There is also a reputation Canadians have of being hospitable. The Airbnb culture here is strong and when visitors are looking to find a place to stay in one of the popular cities, search engines put Airbnb to the forefront. Visitors coming to the major cities want a more intimate experience and with so many safe neighborhoods, they're more likely to stay outside of the main core of a Canadian city.
For an Airbnb manager, your property can be considered valuable when it offers more space than a hotel does. Families that visit here want multiple rooms with a dining area, full kitchen, living room, and amenities like a washer/dryer. Staying in a non-serviced apartment or home in Canada offers guests more space, which is important to those visiting with kids. Whether you own a city property or a home in the country just outside of the city, people seeking out a uniquely Canadian experience will be booking their stay with you.
Five Best Cities in Canada an Airbnb Manager Should Know About
Toronto
Toronto is the largest city in Canada with over 2.5 million people living in the city limits and over $6 million in the greater Toronto area. There are several universities in the area and a fantastic lakefront area. Toronto sits on Lake Ontario, one of the great lakes that are so vast, visitors feel like they're by the sea. Toronto boasts a lot of interesting things for visitors and has a true metropolis feel. The CN Tower is a huge attraction, allowing you to oversee the city while you enjoy fine dining in a revolving restaurant. The Royal Ontario Museum has been said to be the "ugliest building in the world" while others applaud its architectural genius. Follow the link to learn more about Airbnb Management Toronto.
As there are so many attractions for kids, many international travelers bring the whole family. They can enjoy the stately castle and gardens, Casa Loma, or  Ripley's Aquarium of Canada. The Toronto Zoo houses some exotic animals, sea life, and offers fun kids' programs. There are glorious parks that visitors can enjoy like Hyde Park. There are plenty of attractions outside of the city like Niagara Falls and the Toronto Islands. These are day trips so what you may find is that visitors coming here for tourism stay longer durations. Instead of just a few days, they stay at your Airbnb for a week or more. There are also opportunities to attract guests when there are various conferences happening in Toronto.
Vancouver
Vancouver is in Beautiful British Columbia where the sea and sky meet. There are about 3 million people living in Vancouver and it's outskirts. The city boasts a lot of natural beauty and luxury city experiences. It's known as the Silicon Valley of Canada with many technology and game offices here. The city sits on the Pacific Ocean and there are beautiful sandy beaches all over the place. Stanley Park has an aquarium on the grounds that's a great place to take kids. There's historic Gastown and the steam clock to take in as well as biking around the seawall. 
This city is an outdoor lover's paradise. There's a lot of nature right in the city but visitors don't have to go too far to be deep in the middle of old-growth trees either. There are ski hills nearby while the world-famous Whistler Blackcomb is a scenic drive away. In one day here, you can go from walking in the rain by the ocean to shredding powder up in the mountains. The city has a somewhat small town feel to it but still has some great city excitement. Granville Street and Robson Street is the main shopping district while cool antique stores and hipster vibes are found on Main Street. These are also fabulous places to eat with a variety of restaurants at your disposal.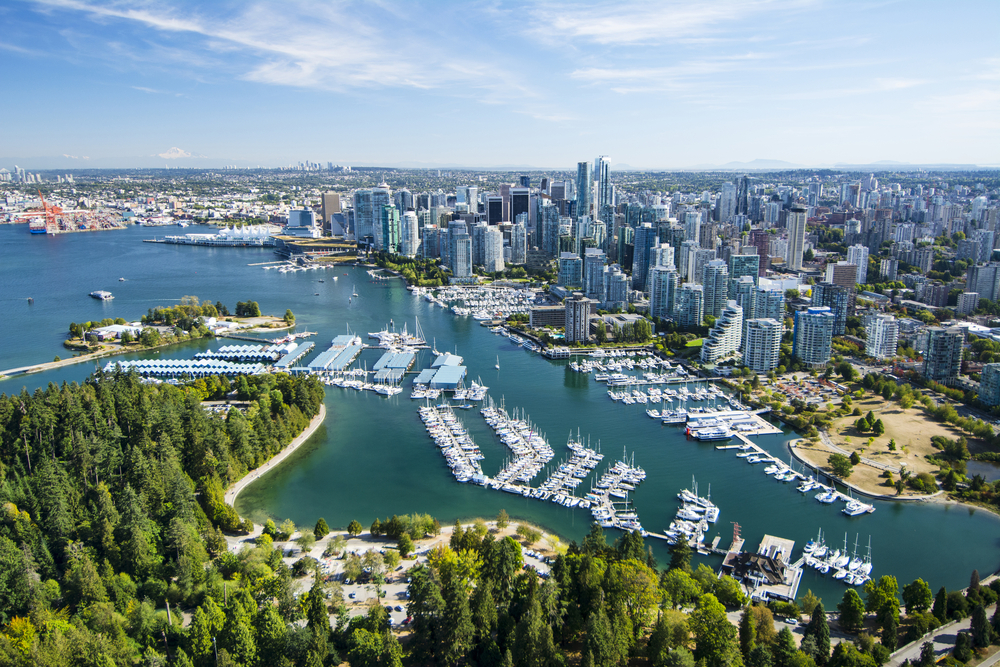 Montreal
Visitors love to come to Montreal for its European feeling, history, and beauty. Montreal is located on the St. Lawrence River and is a hub for communications and trade. In 1535, Jacques Cartier came up the river and landed here. The old part of the city is Vieux-Montreal where original streets and foundations (a fort around the area) have been kept in pristine condition. This is the most picturesque neighborhood in Montreal and there are many historic attractions along with the waterfront promenade.
Montreal is the second largest French-speaking city in the world and although it's not very big, tourists love to come to visit the museums, art venues, and the downtown core. Rue Sherbrooke gives the downtown core an elegant feel while Rue Ste-Cathérine is the main area for shopping and restaurants. As far as urban adventures, families can enjoy the massive Ferris Wheel right on the waterfront or the Tyrolienne MTL zipline. There is often an influx of tourists during the summer and through Autumn when the leaves start to fall. 
Calgary
Calgary, Alberta is well known for the Calgary Stampede. It is a hugely wealthy province thanks to the oil industry. There are many conventions here and it's got a fantastic atmosphere to it. Families will come here to stay for a while, enjoying attractions like the Calgary Zoo or a day trip to Drumheller, where dinosaurs once roamed. The Heritage Park Historical gives visitors a feeling of the old days on the prairies. Calgary attracts many businessmen with the number of conventions that take place throughout the year. 
Calgary has a lot of fantastic restaurants and nightlife in the city center and throughout the 8th Ave area. It is also the jump-off point for those coming and going through the famous Rocky Mountains. Many Europeans will do a tour of the Great Canadian Rockies and start their journey from Calgary. This crowd is looking for a special experience while in the city and an Airbnb short term stay is on their radar.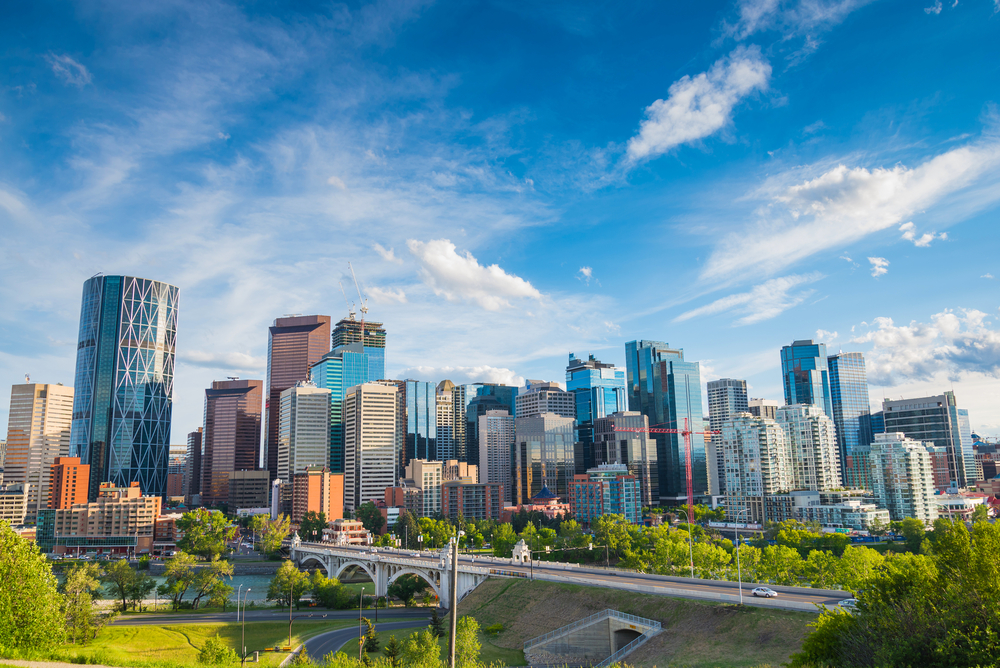 Ottawa
Ottawa is Canada's capital city and a part of the old Upper Canada. There is a lot of history here with plenty of large, stunning mansions to mark the old days. Ottawa is a lot more laid back than Toronto but holds the parliament buildings of Canada, which are spectacular Victorian buildings. As an Airbnb manager, you're attracting more than just tourists as government workers are also often called to the city. 
Still, there are plenty of visitors coming here on leisure. Attractions include contemporary art museums, Notre Dame Basilica, and the Byward Market. The Upper Town is considered fashionable and sites below Parliament Hill. In this area is the Bank of Canada Building, which is a plant and fountain-filled atrium. There's a walking area on a variety of streets that attract shoppers looking for smart boutiques and department stores. The Rideau Canal is 200 kilometers long and connects Ottawa with Kingston on Lake Ontario. During winter, it's possible to ice skate on the canal, which is a rare and unique experience. There are many incredible old buildings and towers erected in Ottawa with historical significance. There are a variety of people that are attracted to this area for its splendor.